Mappa CERVIAVOLANTE 2018
Qui trovate informazioni utili per il Kitefestival e dove parcheggiare i vostri mezzi (zone in giallo).
Per l'occasione sono stati adibiti spazi parcheggio gratuiti per camper nelle vicinanze della spiaggia (zone in verde).
L'ingresso al Kitefestival è in fondo a via Sicilia, via Puglie o attraverso la pineta nei vialetti dedicati (zone in rosso).
Here you'll find usefull informations for the Kitefestival to where to park your car (Yellow zones). 
For this Kitefestival we have prepared some spots were to park your Caravan/Camper near the beach (Green zones).
The Kitefestival entrances are at the end of Via Sicilia/Via Puglie or trough pedonal paths in the middle of the pinewood (Red zones)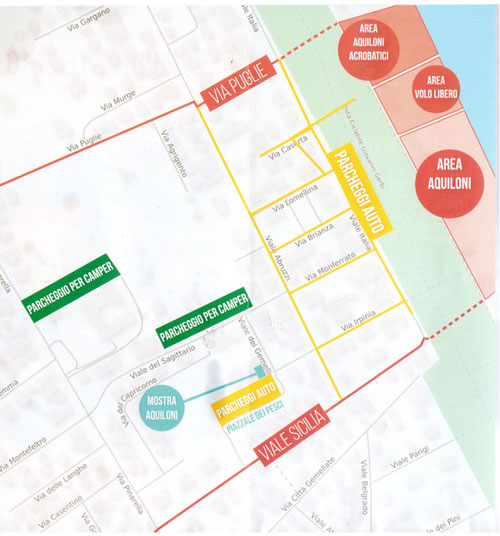 Come arrivare a Tagliata
Percorso per Tagliata in Auto/Camper: A1/A14/E45 fino a Cesena. SP7 fino intersezione con la SS16: 1 km a sud SS16 prendere sottopassaggio ingresso Tagliata: Seguire via dei Cosmonauti verso Sud: Svoltare in via Sicilia. Benvenuti a Tagliata di Cervia.
Percorso in Treno: Treno da Milano/Roma fino a Bologna Centrale: Treno fino a Rimini/Ravenna: Treno locale fino a Cervia/Milano Marittima: Servizio taxi verso Tagliata: Clicca QUI per prenotare taxi o minibus, anche servizio disabili.
How to get to Tagliata via Car/Camper: Motorway A1/A14 till Cesena: SP7 till intersection with SS16: 1 km south take underway to enter Tagliata: Follow Via dei Cosmonauti direction south: Turn into via Sicilia: Welcome to Tagliata.
How to come by Train: Train from Milan/Rome to Bologna Centrale: Train to Rimini or Ravenna: Local train to Cervia/Milano Marittima: Taxi/Minibus to Tagliata: To book your taxi or minibus click HERE. Disabled people service available.